Develop a Course
Have you ever thought about creating your own online security course but don't know where to start? Maybe you're a little worried about how you might get the course in front of the right audience, how to build effective lab exercises, or perhaps you just don't want to deal with the headache of finding and managing a course LMS. I understand, and I can help.


My name is Chris Sanders, and I've spent most of my career as a security analyst. Now, I'm a full-time security course instructor and author, choosing to pursue a doctorate in education focusing on adult learning and cognition along the way. When I created Applied Network Defense I knew that I didn't just want to use this platform to host my own courses; I also wanted to use it to give others the opportunity to share their expertise with the world. That's why I work with security practitioners to help them turn their years of hard-fought experience and unique insight into online security courses that meaningfully impact people's lives.


The formula is pretty straightforward; you bring your expertise, and I'll help you turn it into an online course that we'll sell on our platform. You'll keep most of the profits and ownership of your content, and you'll also pick up some useful teaching and learning skills along the way.


The process we use to get there is a mentoring-based approach where you and I work together to build your course. I'll help you understand the nuances involved with online teaching, and we'll collaboratively refine your curriculum before you set off to create the individual lessons. If you're new to teaching, I'll also spend time with you to describe what makes adult learning unique and how to leverage principles of cognitive psychology to help students understand concepts more clearly and retain their knowledge. Simply put, I'll be there to coach you through the entire process from the initial course design, to recording video lectures, to the point where you are interacting with students, providing them feedback, and marketing your class.


I love working with new course authors throughout this process, and if you're interested in educating others, I think you'll enjoy the process and results as well. If you'd like to work with me to build a course, continue reading below to learn more about the process. I look forward to seeing your submission!


-- Chris Sanders
How It Works

Applied Network Defense specializes in building one-on-one relationships with course authors and mentoring them along the path to becoming skilled curriculum designers and instructors.
With our practitioner-instructor development model, you bring your expertise, and we'll work with you to enhance your instructional skills while designing and developing an engaging online course. While you're focused on content, we'll handle the learning platform, registration, payment processing, support, and everything else.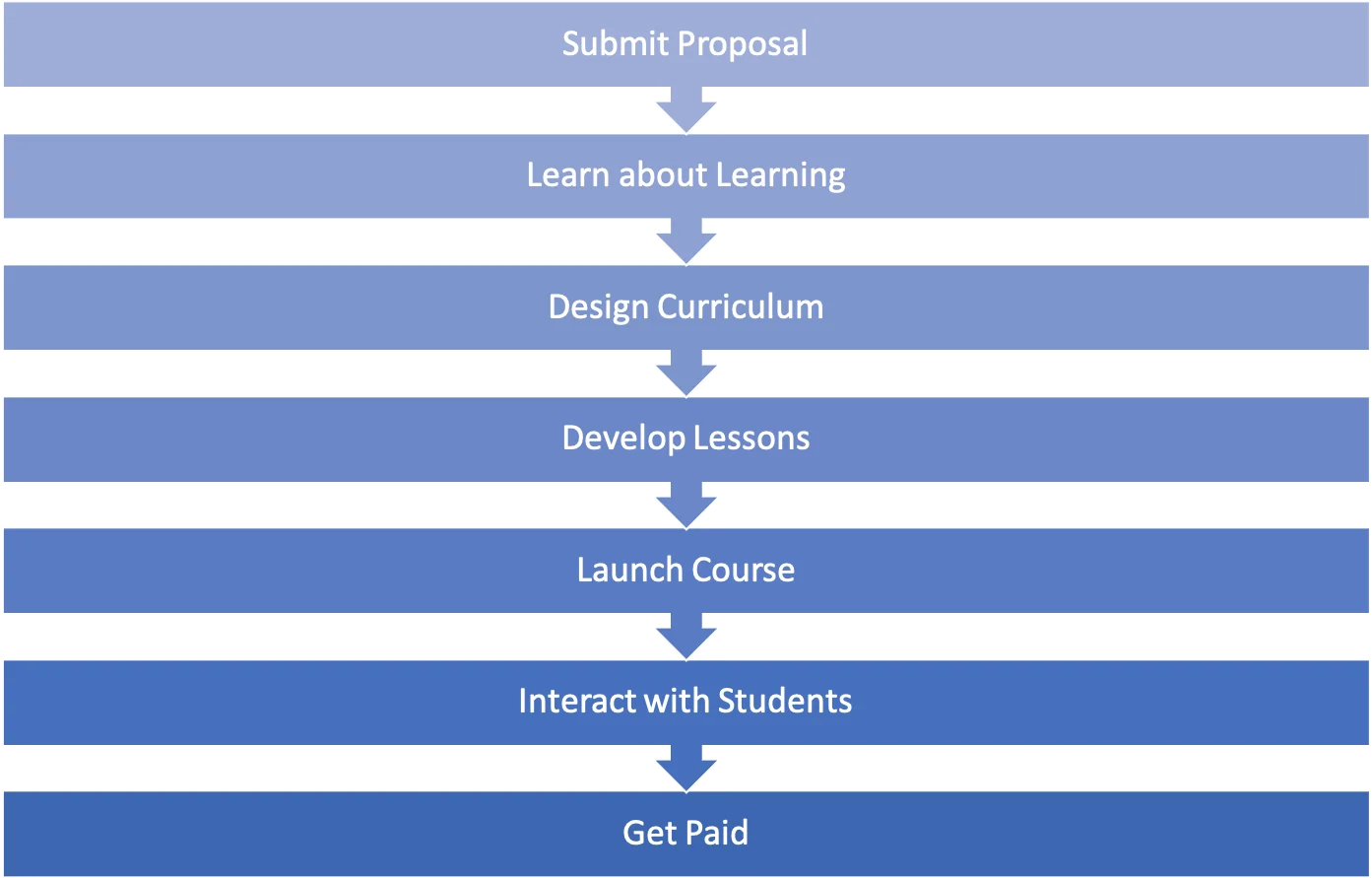 Step One: Submit a Proposal
A course begins with a great idea. Send your proposal to chris@appliednetworkdefense.com and include a description of your course idea, along with a rough outline. Your proposal should answer the following questions:
What is the technical background of students who would take your course?
What problem does your course solve for them?
What tangible skills will a student learn when completing the course?
Are there any other courses like this one? How is yours different?
Also, tell me a little about yourself, your background, why you're qualified to teach this course, and why you want to teach it. Your course can be completely new, or it can be an online version of an in-person course you're already teaching.


Step Two: Learn about Learning

If we decide to move forward with your proposal, we'll offer you a course development contract and pay you an advance against royalties. Then, you'll start working with me to learn more about curriculum design and the nuance of online training. You'll participate in a one-on-one session to learn about things like:
The unique facets of adult learning
The role motivation plays in adult education
Strategies for making courses accessible to broader groups of learners
How to avoid common mistakes that can discourage students
What makes online education unique and how to leverage it
How to leverage learning strategies like interleaving, spaced learning, and formative assessment
How to develop engaging, feedback-driven course activities
Throughout this initial process, you'll take some time to examine other AND courses and see how AND instructors create engaging classes.


Step Three: Design Curriculum

Now it's time to apply what you've learned to your course! In this phase, you'll start by re-examining your learning objectives and laying out a sequence to teach them to your students. Next, you'll break the course into sections, lessons, and individual tasks that students will complete. The result of this process is a living curriculum document that you'll use to form the base of your course and track your progress toward the completion of the course material.


Step Four: Develop Lessons

With a strong outline prepared, now you'll prepare the content that makes up your course videos, discussions, exercises, and labs. We'll help you get set up with the hardware and software needed for screen and voice recording and coach you through the process of creating the course material.
Whether you're a professional or a first-timer, we'll make sure you're comfortable with the process and provide the support needed to produce a complete, polished, engaging course. We scrutinize every lesson component and provide ample opportunity for feedback and improvement. In the end, that results in a class we're all proud of.


Step Five: Launch Course

As we near the completion of course development, we'll start developing a marketing plan that leverages AND's existing marketing framework and customers to put your course in front of potential students. We'll also leverage sales channels unique to your course content area. Throughout this process, we'll provide support and examples of how AND course authors successfully market their classes through their blogs, social media, and specific learning communities.


Step Six: Interact with Students

Because we focus so much on retention and learning outcomes, we expect our courses to be higher quality than most. That means they're more than just a series of recorded videos. Our training platform is immersive and instructor-led, complete with a student discussion forum and the ability to collect responses and provide feedback from several different types of exercises. Your course materials will be available for students to view at any time, but we expect you to be a presence in the course to answer questions and help further student discussions. These courses are all about connecting students with your expertise.


Step Seven: Get Paid

Once your course is running, we'll process payments to you at set intervals throughout the year. We'll also provide feedback from your students so that you can continually improve your course as you make sure each lesson hits the mark. While the bulk of the course development work ends after the initial launch, the best course authors always try to think of new ways to reach students and teach concepts effectively. I'm always available as a resource to brainstorm course ideas. Of course, we also expect authors to keep their courses up-to-date with relevant examples and software versions as necessary.
Why Teach With Us?


Maximize Effectiveness and Develop Teaching Skills
Teaching is a unique craft all its own, and in-person classes don't always translate well to online course delivery. You have to work much harder to engage online learners, and that's where our experience shines. We'll help you develop creative ways to make sure people grasp your material through lab exercises, engaging discussions, and active learning. We are exclusively dedicated to information security training and are led by experts who not only excel in developing training content, but can also put their hands on the keyboard and do the job of catching bad guys, too. Simply put, we're a practitioner-led organization.


A One-On-One Experience
We specialize in working with new or inexperienced course authors to helps them develop the skills necessary for online curriculum design and teaching. This process resembles a mentoring relationship, with plenty of opportunities to learn and receive individualized feedback. The skills you learn developing your course will translate to many other areas of your career and may just help accelerate your ability to learn and process new information more effectively too!


Build your Brand
When you teach someone in a way that genuinely impacts a student's life or career, you build a life-long bond with them. Not only is this experience tremendously rewarding, but it's also through these connections that you can further your personal brand and enhance your career. Developing a course with AND will increase these opportunities.


Retain Ownership of your Content
We don't require you to sign over the rights of the content you've developed. With AND, you grant us a license to be the online delivery provider for your material. We focus exclusively on online delivery, so you're free to teach your material in person as you see fit. We'll even help you market your in-person course!


Save Time and Focus on What Matters
Hosting online courses is cumbersome. You have to worry about the course management system, video production, registration, payment processing, marketing, student support, collecting feedback, and much more. If you try to do all this yourself, you can easily spend more time managing your course than developing content for it. We take all that headache away and let you focus on being the expert in your subject matter area.


Expand Internationally
It's hard to provide training opportunities internationally because of restrictive local requirements and the expense of traveling. AND has served students from 80+ countries, providing ample opportunity to reach people that you might not be able to find otherwise through in-person teaching.


Maximize Revenue
We don't accept proposals from courses we don't expect to be successful, and we'll do everything in our power to make sure your class is well-designed and marketed to the right people. Aside from the direct revenue your course generates, most of our course authors find that the success of their online course can lead to other financially lucrative opportunities such as in-person teaching, consulting, or advances in their full-time careers.


---
Testimonials from AND Course Authors
"When I started off working on my first AND course, I had a number of years of experience of teaching live in-person, but not online. Though a lot of the principles are the same, there are a number of nuances that just don't translate over - this is where Chris was extremely valuable.


Chris helped me understand how to best communicate the concepts through a variety of practical techniques. In particular, one of the key aspects that I appreciate about Chris is that he doesn't see online training as just simply "teach it like you would in-person / live" and be done with it. Instead, Chris has helped guide me in developing online training that features key feedback loops from the learner to me as the instructor, ensuring that the student is actually learning and not just sitting and listening. Additionally, the practical feedback I received from Chris on the lesson content as well as the recordings was critical in the development of my courses - they would be much less effective without his constant feedback.


I would highly recommend Chris to those who are considering developing your own online training - no matter your level of experience, I think you would gain valuable teaching techniques, insight and feedback along the way."


-- Josh Brower, Detection Engineering with Sigma and Osquery for Security Analysts Author


"Sometimes it's hard to convert ideas into reality. I was struggling to come up with a good place for my idea on an Information Security training course for CyberChef. Perhaps just throw it all on YouTube? Or self-host? Or a generic learning platform? Then I remembered Applied Network Defense. I'd watched and followed Chris Sanders' Cuckoo's Egg training and I had a couple of his books. My idea seemed to be in step with his philosophy: reasonably priced, high quality, niche InfoSec training. I shot him an email and 'CyberChef for Security Analysts' was born.


What I found is that had I 'thrown it on YouTube' the course would have been dramatically different, and for the worse. Chris was very clear: I provided the expertise in CyberChef, and he would provide the skills and advice on how to turn my knowledge into a professional training program. From the outset, Chris was professional and engaged in my course but didn't micro-manage anything. The value-add he brought was exceptional, and his ideas to tweak sections, labs, or how I present concepts to my target audience really strengthened the course in every way.


Practically, it was easy, Chris provided advice on technical hardware and supplied licensed software. We synced via cloud storage and for every email from me saying "next section up!" there was always a prompt reply. It would offer advice, tweaks or confirmation it looked good for production.


There was a timeframe for the course and completion but Chris understood if things got in the way. For me course development was on top of work and family and I couldn't devote full time resources to it. As long as the course was progressing there were no 'deadlines'. I was grateful for this and both Chris and I agreed that the course needs to be correct and thorough, rather than quick and shallow.


So if you have an idea or outline for a training course, I'd highly recommend speaking with AND. Chris will provide honest feedback and his wealth of expertise is worth tapping into if you want to create a professional infosec course. I learnt a lot from writing and developing my course - much of it thanks to Chris and his work."


--- Matt Weiner, CyberChef for Security Analysts Author